Healthy Monoproteic
5-stars Petfood
Healthy monoproteinic food for dogs and cats allows to avoid and to solve naturally all problems related to food intolerances of your pets. The raw materials employed are specifically chosen, aiming at giving a balanced and tasty contribution of all nutritive materials which your cat or your dog needs.
Our ranges of products are made of 100% meat or fish and are complete food - not requiring any additional food supplement.
Healthy Puppy items are especially designed to guarantee your puppy a right contribution of nutritive materials in order to grow healthy and to prevent the beginning of intolerances since its early months of life.
On the contrary, Healthy cat range features all nutrients vital to its health; as a matter of fact, they are rich in taurine and Vitamin A.
Discover the Healthy line in the catalog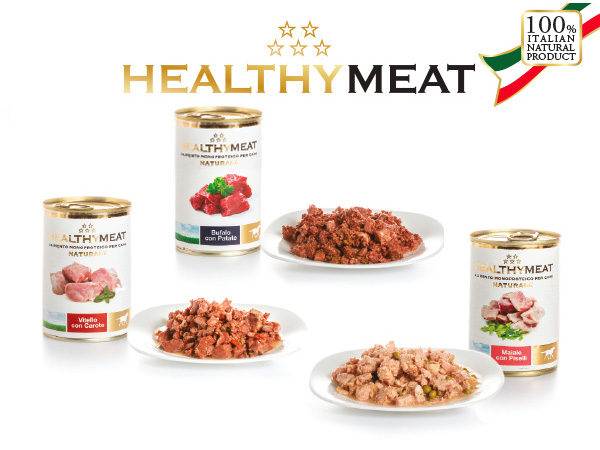 MEAT
HEALTHY MEAT is prepared with high-quality meats rich in digestible proteins, coming almost entirely from Italian farms.
The absence of derivatives promotes the natural palatability of the products with minimum add of vitamin and mineral salts, as indication of their freshness and quality.
The recipes contain 100% meat with a single animal source ingredient and allow to prevent or solve problems related to food intolerances.
FISH
HEALTHY FISH is the alternative protein to meat from HEALTHY MEAT. Fish is crucial in the diet of dogs and cats while providing high quality protein, a high content of important mineral elements and a high composition of essential omega fatty acids as well as the richness in mineral salts and low cholesterol level.